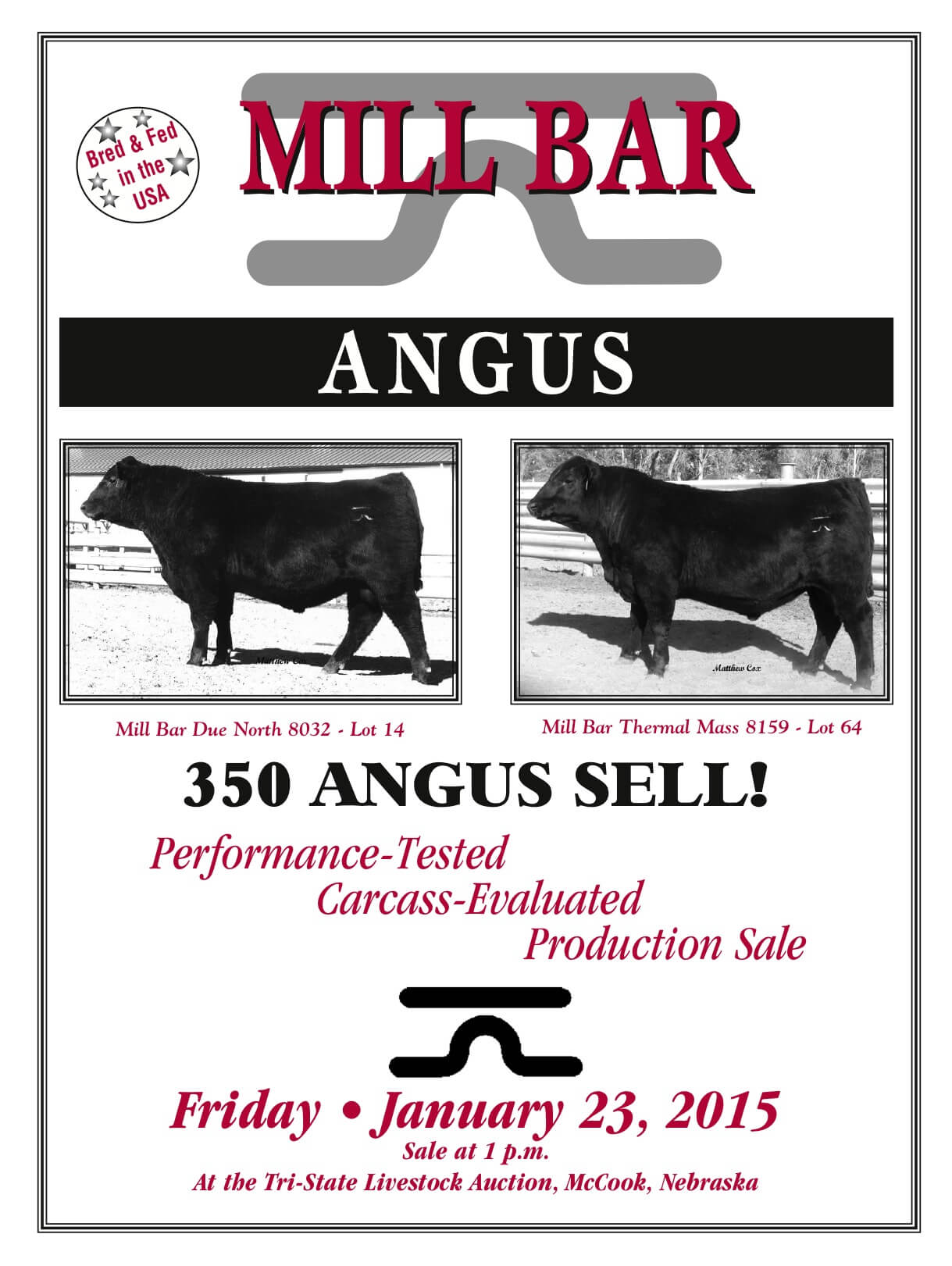 Welcome
350 Angus Sell!
January 23, 2015 • 1 p.m.
At the Tri-State Livestock Auction, McCook, NE
Dear Friends,
Welcome to this year's offering of Mill Bar Angus bulls. Again, what a year to be involved in the production of beef cattle; specifically Angus.
I just want to congratulate all of our friends and customers on all the great cattle I've seen this past year, whether on your outfit, in the auction barns, or on the video, what a lot to be proud of and to be thankful for!
Another year of world record prices at every level of production and all segments of the industry! Demand is up worldwide and these cattle prices really reflect all your hard work, determination and resolve.
It should also be said that we are our own customers at Mill Bar. In addition to our Registered Herd we also operate a commercial cow/calf operation, and a home grown and speculative stocker operation that leads to the marketing of fed cattle in retained- ownership and grid based systems. Together with our own calves, we actively purchase large numbers of calves from our bull customers. We don't just talk about marketing assistance, we truly are out there buying and bidding on these great cattle.
We are pleased to announce that proceeds from Lot 76 will be donated to the FFA Program in Hayes Center for the purpose of attending the National FFA Convention in Louisville next year.
We would also like to announce that Mill Bar Went Stellar 6221 has been leased to Genex, we are excited about that partnership!
We hope you can be with us on Friday January 23, 2015 and join us for lunch at noon. All the up-to-date data, including scrotal measurements, performance information from gain tests, ultrasound data and updated yearling weights will be available sale day.
Once again the bulls will sell fully guaranteed and will be delivered free in Nebraska and adjoining states after April 1, 2015 and if you have any questions, or need help with selection, please give me a call.
Sincerely,
Mick Cox
P.S.
Pay close attention to the Mill Bar Angus influenced replacement heifers from Kevin Fornoff's Diamond Quarter Circle Ranch and Ruggles Land & Cattle, to sell at the conclusion of the bull sale. They are truly a powerful set - not some of the best to sell in Nebraska this year - these will be some of the best to sell in America!