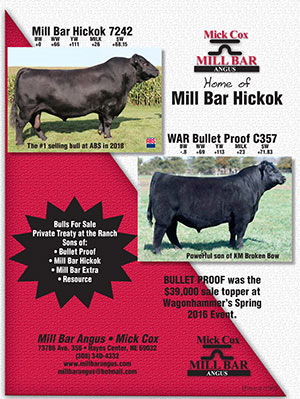 Welcome
Dear Friends,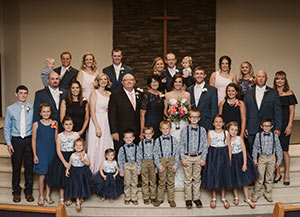 Mick and Marlene Cox family
Welcome to this year's offering of Mill Bar Angus bulls. Always great to be involved in the production of beef cattle; specifically Angus.
I just want to congratulate all of our friends and customers on all the great cattle I've seen this past year, whether on your outfit, in the auction barns, or on the video, what a lot to be proud of and to be thankful for!
It should also be said that we also are our own customers at Mill Bar. In addition to our Registered Herd we also operate a commercial cow/calf operation; a home grown and speculative stocker operation that leads to the marketing of fed cattle in retained- ownership and grid based systems. Together with our own calves, we also actively purchase large numbers of calves from our bull customers. We don't just talk about marketing assistance, we truly are out there buying and bidding on these great cattle.
We are offering an elite group of yearling bulls for an elite group of cowboys as always! Really excited about the Bullet Proof calves, he was our pick of the Broken Bow sons at Wagonhammer's in 2016, and they are awesome!
We are inviting you to visit the ranch and take a look, or give me a call.
Sincerely,
Mick & Marlene Cox